As a child, I loved to read Dr. Seuss. As a mother, I enjoyed seeing the responses of my sons to the vibrant pictures and words.  I agree with Jen Robinson who said Dr. Seuss encourages children and adults to look at the world in different ways, whether this means upside-down, from the top of a tree or from inside a tiny speck.  A favourite Dr. Seuss book for me is, Oh the Thinks you Can Think!  In university I was introduced to the writings about Socrates and have ever sinced been plaqued with the incessant barage of asking questions and questioning what I believe and why I think the way I do.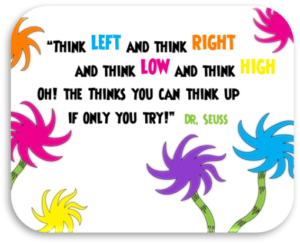 When it was time to work on the content for the website, and asked about creating a Blog – it was only natural to call it, "Thinking Thoughts". 
So, welcome to our Thinking Thoughts – the topics we will cover will be about things . . . anything really . . . things we are researching such as oncology massage, educational findings on techniques and various modalities, articles that will benefit our clients – actually about anything we can think . . . if we only try.