Providing informed, ethical and compassionate treatment . . .
EVERY TIME
Whether you are coming to Freedom Massage Clinic for relaxation massage as part of your ongoing wellness goals, for recovery after an injury or post- surgery scar tissue management, for treatment of symptoms and side effects of cancer or for certified lymphedema treatment – we will embrace your goals helping you achieve your optimal health. 
Our Mission – is about seeing each person coming into our clinic as unique and uniting with you in your experience as a partner in your healthcare – while honouring both you and your journey.  This is our starting point – our purpose – our WHY.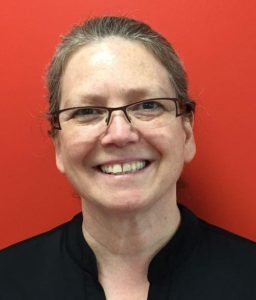 Jackie Mungal
RMT, CLT/CDT, BPHE, Certified BioFlex Laser Therapist
Jackie Mungal is a registered massage therapist, certified lymphedema therapist and certified BioFlex laser therapist.

Constantly striving to provide excellence in treatment; Jackie has trained in advanced lymphedema treatments, scar tissue management, post-surgery rehab, fascial treatments, oncology massage, hospital and hospice massage.

She was nominated for the 2017 Premier's Award for Outstanding Ontario College Graduates for her impact in her community, she is a Preferred Practitioner with the Society for Oncology Massage, member of the American Massage Therapy Association and received the RMTAO Certificate of Excellence in Orthopedic Assessment.

Jackie is passionate about providing informed, ethical and compassionate treatment . . . EVERY TIME.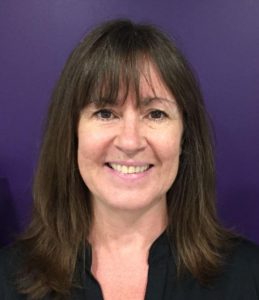 Brenda Murphy
RMT, CLT/CDT, BPHE, Certified BioFlex Laser Therapist
Brenda is a Registered Massage Therapist, Certified Lymphedema Therapist and Certified BioFlex Laser Therapist. She has advanced training in Oncology Massage as well as Prenatal Massage.

Brenda knows what it's like to be in an injured and stressed body. She has experienced the therapeutic and restorative benefits of massage therapy and believes everyone can benefit from this health care option. Brenda has always been fascinated with the human body – how it works, how it heals. She has a degree in Physical Education / Kinesiology from York University, and before becoming an RMT, she was a Personal Trainer. This gave her over 10 years of experience developing wellness programs for clients of all ages with a strong focus on stress management and injury rehabilitation.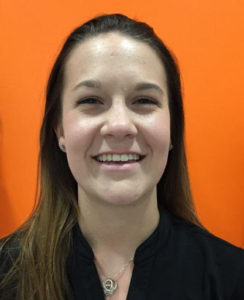 Briana Cyr
RMT, CLT/CDT, Certified BioFlex Laser Therapist
Briana Cyr is a graduate from Georgian College and is a Registered Massage Therapist and Certified Lymphedema Therapist. She has specialized in Prenatal and Post-natal massage, and BioFlex laser therapy.

Briana strives for excellence and continues to advance her knowledge and skill with continuous learning opportunities.

Her mission is to support individuals in achieving life balance through personal wellness. Briana prides herself to always ensure her clients needs are individually met. She is a tremendous part of the Freedom Massage team providing the care and compassion that exemplify our mission.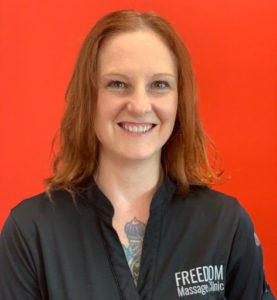 Trudy Deacon
RMT, Personal Trainer, Certified Fitness and Yoga Instructor
Trudy is a graduate of Georgian College and a Registered Massage Therapist, certified fitness and yoga instructor as well as a personal trainer.

Trudy is also certified in Hot Stone massage, Cold Stone facial massage and Indie Head Massage.

Trudy is incredibly passionate about health and fitness and is dedicated to life-long learning and continuous education.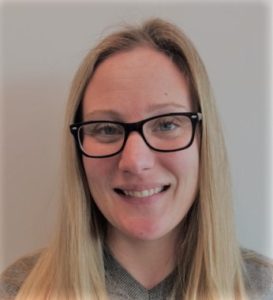 Natalie Warren
RMT, CLT/CDT, Certified BioFlex Laser Therapist
Natalie is a registered RMT, Certified Lymphedema Therapist and Certified BioFlex Laser clinician and has further training in the field of pre and post-natal massage.

Natalie brings with her a sport and equestrian background and is passionate about helping others stay at the top of their game.

Her interests include Sports Rehabilitation and Preventative Care, as well as providing compassionate care in the field of Oncology and Palliative care.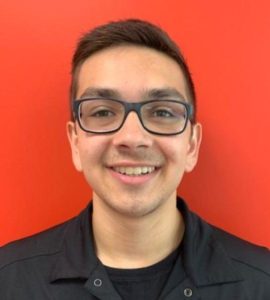 William Mungal
Personal Trainer, Certified BioFlex Laser Therapist
William is a full time 4th year Kinesiology student at the University of Toronto.

He works part time with Freedom Massage Clinic as a Certified BioFlex Laser Therapist, Personal Training specializing in rehab exercises and proper biomechanical movements to assist with injury recovery.
Kelsey Hogg
Georgian College Massage Therapy Student, Certified BioFlex Laser Therapist
Kelsey is a Massage Therapy student at Georgian College - she found her passion by working at Freedom Massage Clinic alongside our amazing team and is incredibly excited about becoming a Registered Massage Therapist in the future.

While she is working towards this goal, she will continue to be one of the friendly faces that welcomes you at Freedom Massage Clinic!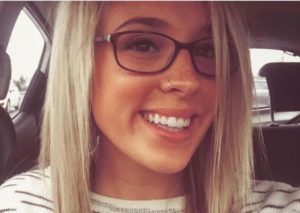 Liz Wilson,
Massage Therapy Program Graduate
Liz has recently graduated from the Georgian college Massage Therapy and is waiting to take her final board exam to become a Registered Massage Therapist. She is very excited to be working at the clinic and can't wait to be registered and start her career. She aspires to become a Certified Lymphedema Therapist in the near future.

Until then she is studying hard and very happy being the first face you see walking into the clinic.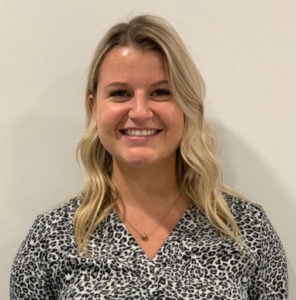 Stephanie Matty,
Control Desk
Stephanie is a graduate from Georgian College in Medical Office Administration, starting her career at Freedom Massage Clinic. She will be one of the welcoming faces greeting you with a smile every visit. Her enthusiasm and energy are a welcome addition to our growing team.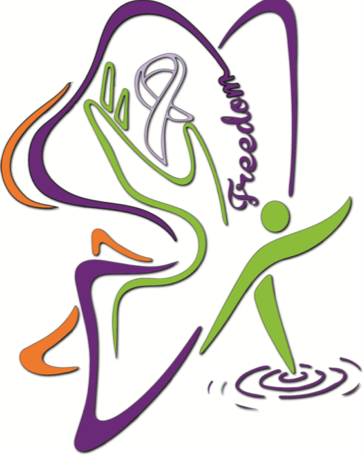 The Butterfly  is a symbol transformation and change. If diagnosed with a disease, looking at the long road of rehabilitation after surgery, recovering from a workplace injury or motor vehicle accident – we are faced with a new reality as we experience these events. The butterfly shows us that in light of this situation – beauty can be revealed and new life can rise up from the struggle.
The Power Pose is about a new reality and season of self-transformation and trusting decisions to step forward in this phase with power, confidence and determination.
The Ripple Effect is about the impact your choices will have on you, your loved ones and your sphere of influence; it also reflects the energy that goes out from you – like a ripple effect in water. There is another message specific to modifications to massage as it relates to the level of pressure used on specific areas and in various stages of diseases – that pressure may be understood as being as light as water running over rocks.
The Hand represents the role of trained registered massage therapists using safe, effective, evidence-based treatment through therapeutic, massage, lymphedema treatment and bodywork to improve quality of life and live well throughout your experience.
2018 © All rights reserved